Cloud Ecosystem
Certified Cloud

Certified Cloud ist das Qualitäts Label für Software as a Service- oder Infrastruktur Lösungen.
The certification allows you to raise yourself above your competitors. It speeds up the decision-making process, because decision-makers have trust in awards. Once your solution or expertise has been successfully verified, you can use the mark to advertise in your channels for a year. To ensure quality, self-assessment is carried out every year.
Apply
You can apply for your certificate in just a few steps. To do so, fill out the online questionnaire and we will check your details immediately. This usually takes a week, if everything is OK, we just have to check your references.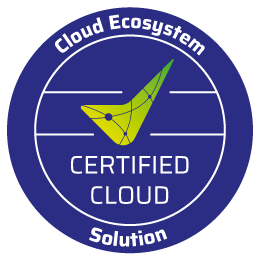 Certified Cloud Solution
 Businesses commit to maintaining technical, contractual and service-related cloud quality standards. Security plays a role here as well, just as flexible booking and exit options or service levels do. Proven references also provide additional confirmation of your credibility.
Certified Cloud  Infrastructure
With the IaaS Certificate, you commit to maintaining technical, contractual and service-related cloud quality standards. Prospective customers looking for reliable infrastructure should place those providers that have the Certified Cloud quality label on their shortlist.
More Trust
Interested parties can find the Certified Cloud Label on your website. This improves your reputation and increases the chances of successfully closing.
More Traffic
Mit dem Zertifikat könnt ihr mehr Traffic für euere Webseite generieren. Interessenten finden eure Lösung auf der Certified Cloud Seite. Auch im Appstore Smart Business Cloud können Interessenten nach Zertifizierungen selektieren.
More Sales
Advertise the award on your website and demonstrate the quality of your solution to prospective customers in a prominent position. Improve your conversion rates by doing so and generate more business.
Contact
We look forward to receiving your feedback, queries and ideas. Contact us today! We will get back in touch with you as quickly as possible.
Use the form or the contact information below to get in touch with us.
*The data we collect here is only used for initial contact purposes. 
veerle.tuerling@cloudecosystem.org